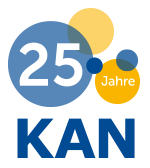 Commission for Occupational Health and Safety and Standardization (KAN)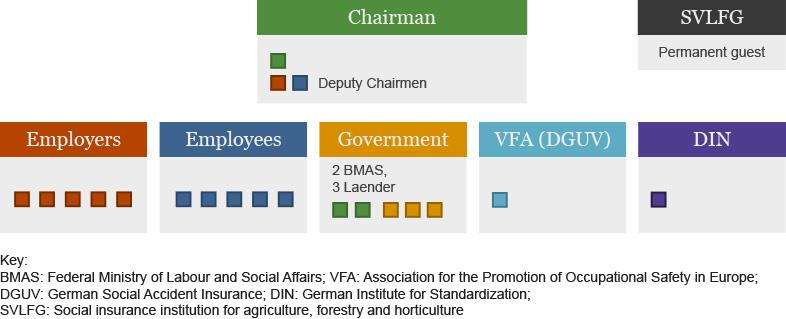 KAN (17 members) brings together the institutions concerned with Occupational Health and Safety (OH&S) in Germany.
KAN is composed of five representatives each from
the employers,
the trade unions and
the State,

two of whom are from the Federal Ministry of Labour and Social Affairs (BMAS), the department of the Federal Government responsible for OH&S,
with the other three coming from the supreme OH&S authorities of the Länder
plus one representative each from
With the Social Insurance for Agriculture, Forestry and Horticulture (SVLFG) as a permanent guest, all statutory accident insurance institutions are thus involved in KAN's work.

KAN's chairmanship rotates every two years among the representatives of the employers, trade unions and the State.

This essentially tripartite membership complies with the demand of the Machinery Directive 2006/42/EC (Art. 7 Par. 4) for an improvement in the involvement of the social partners in standardization. KAN has gone a step further by establishing one office each for the social partners at the Secretariat.
The KAN Secretariat
KAN's work is supported by a secretariat (currently manned by 20 employees).
The KAN Secretariat comprises the two departments, "Safety Technology" and "Occupational Health and Ergonomics", and also has an office for each of the social partners (employers and trade unions).
The KAN Secretariat is a service provider. It supports the work of KAN by
formulating comments on standards,
designing, accompanying and evaluating studies and expertises for the analysis of standardization fields,
preparing KAN meetings and
implementing KAN's resolutions.
The Secretariat also addresses itself to the interested public and
reports on KAN's work,
holds seminars and conferences and
conducts an exchange of information and views with OH&S and standardization experts.
Please call the Secretariat (Contact) if you
require information on directives, existing standards or current standardization processes,
wish to draw attention to areas where standards are lacking or insufficient in terms of OH&S, or areas where standardization would be inappropriate from the point of view of OH&S.