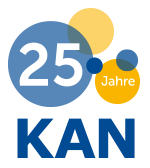 Standardization - Key facts and documents
Discover here how a standard is produced, and how occupational safety and health concerns can be introduced effectively into the standardization process. The documents constituting the basis for our work are also available here.
---
How are standards developed? How can OSH stakeholders influence the standardization procedure?
Read more on how a European or an international Standard is developed and how OSH stakeholders can influence the standardization procedure. Read more
Basic documents and KAN position papers
KAN has adopted policy positions on a range of topics. These and other European and international documents upon which KAN's work is founded are available here.
---
The office work of today
Typewriter, punched cards, stenography, rigid working hours: until quite recently, these were typical characteristics of an office workplace. They have now been replaced by the laptop, smartphone, open-plan offices and flexible working hours – in theory, work at any time and any place. In the Special section of this issue, read what challenges this change is presenting for standardization and regulation in the sphere of office work.
Validated OSH-related findings concerning the non-visual effect of light upon human beings - A literature review
The literature review discusses the latest OSH-related findings of scientific studies into the non-visual effects of light. In order for the non-visual effects of light to be considered as broadly as possible, a number of specialist disciplines – chronobiology, occupational medicine and lighting technology – were involved in the KAN Study. The comprehensive assessment from the perspective of lighting technology can be found in the annex. This assessment sets out principles of lighting technology and current knowledge of potential harm to the eyes caused by an excessively intense blue light component.
The available studies into the non-visual effects of light were conducted primarily under controlled conditions (for example in sleep laboratories). They generally involved only small numbers of test subjects, or were animal experimental studies. These studies are well suited to identifying cause-effect relationships. In turn, the cause-effect relationships facilitate transfer of the results of studies to scenarios beyond those studied. Laboratory studies cannot however describe the actual circumstances at workplaces. Additional studies at workplaces (field studies) involving large numbers of test subjects are therefore important, even though such studies may also be subject to confounding influences that are difficult to control.
Download KAN Study 08/2018 (german; english summary)
List of all KAN Studies