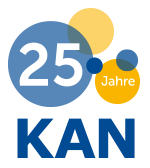 KANBrief 4/17
EN ISO 27500: The human-centred organization – Rationale and general principles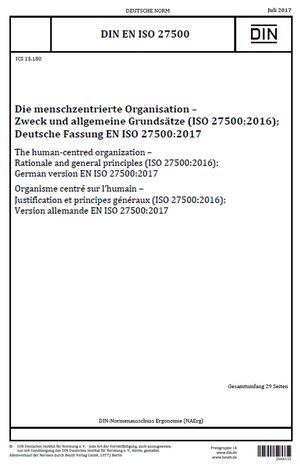 Companies should be gauged not only by their profits and productivity, but also by how well they meet their obligations to society and the environment. The world's seven largest industrial nations (the G7) have added a further aspect: that of human-centredness. How this can be implemented in companies is described by the new EN ISO 27500 standard1.
The term human-centred reflects the need for companies to exert their influence upon people and their behaviour such that the companies meet the needs of employees and customers alike. EN ISO 27500 is intended for companies and organizations of any size, and contains recommendations for the shaping of a human-centred organization. Its aim is to raise awareness among managers not just for profitability, but also for the interests of the company's employees. The highlighting of risks resulting from a failure to apply human-centred principles supports this raising of awareness. The standard is not a management system standard, and is thus not intended for certification purposes.
The standard lists seven principles that are characteristic of a human-centred company:
The company views differences between individuals – customers and employees – as an asset rather than as a problem, and takes these differences into account: differences in body height for example are considered during job and product design; differences in skills and knowledge can be exploited for the solving of problems.
A human-centred company uses international standards and best practice in order to ensure that products, systems and services are accessible to and usable by customers and employees with the most diverse abilities and characteristics.
The company recognizes that human beings are part of the system in which they work. During the design of new work systems and modification of work systems already in place, the company takes account of the users' needs.
The company takes the steps necessary to protect persons against risks to their health, safety and wellbeing. These steps include voluntary measures over and above those of statutory occupational safety and health – and both within and outside the company. This contributes to improvements to productivity, and reduces the risk of work-related injury and illness.
The company offers its employees meaningful work in which they can make use of and develop their abilities. The company values the contribution made by its personnel and rewards this contribution both financially and in other ways.
The company communicates openly and transparently both internally and outwardly. If for example (difficult) decisions are to be taken, the workforce is informed appropriately and in good time.
The company acknowledges its social responsibility by implementing the seven principles of ISO 26000, Guidance on social responsibility: accountability to society, the economy and the environment; transparency in its decisions and activities; ethical behaviour; respect for the interests of all stakeholders; respect for the rule of law; respect for international norms of behaviour; and respect for human rights.
EN ISO 27500 takes account of human beings – whether they are employees or customers of organizations – and does so with reference to relevant international standards. These include ISO 26000, Guidance on social responsibility, and EN ISO 26800, Ergonomics – General approach, principles and concepts. EN ISO 27500 presents the principles of human-centredness in a concise form. It is intended for executive board members; it is supplemented for managers by EN ISO 27501:2017-07, The human-centred organization – Guidance for managers.
Small and medium-sized enterprises (SMEs) also benefit from the approach of human-centredness. Insufficient human resources and a lack of time and expertise are often an obstacle to its implementation, however. DIN offers support on the SME Commission (KOMMIT)2 and SME Helpdesk3 Websites.
Sibylle Adenauer
Institute for Applied Occupational Ergonomics and Industrial Engineering (ifaa), Employee Efficiency and Workplace Productivity Department
Prof. Dr.-Ing. Sascha Stowasser
Director of the Institute for Applied Occupational Ergonomics and Industrial Engineering (ifaa); Chairperson of the DIN Ergonomics Standards Committee (NAErg)