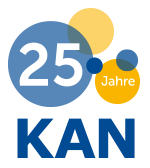 6th EUROSHNET Conference in Dresden/Germany, 12-14 June 2019
"Be smart, stay safe together – Innovative products and workplaces" was the title of the 6th EUROSHNET conference held in Dresden from 12 to 14 June 2019.
Digitalization is entering the world of work. Standardization processes are being strongly accelerated in order to keep pace with innovations. New types of certification are needed as products are increasingly connected to other products within dynamic and intelligent networks or sold as a package with services.
How can we react to these challenges and make products and workplaces fit for the future? EUROSHNET, the European network for occupational safety and health experts, invite stakeholders from across Europe to discuss the changes, challenges and chances associated with the current developments.
The programme, presentation slides and photos of the conference are available on the conference website.
European network for occupational safety and health experts (EUROSHNET)
EUROSHNET is an international network of experts involved in occupational safety and health. It was created against the backdrop of growing internationalization of standardization on the one hand and diminishing resources of the OSH lobby on the other. The network is intended to facilitate contact between OSH experts, to promote discussion of issues of common interest, and to disseminate information relevant to occupational safety and health.
In order to promote networking among OSH expert in Europe at a personal level, EUROSHNET organizes a European conference every three to four years. This is attended not only by the experts from the accident insurance institutions, but also by all parties involved in occupational safety and health: manufacturers and users of work equipment, test and certification bodies, representatives of the European Commission and national authorities, standards institutes, and the social partners.
EUROSHNET is a joint project of KAN and CIOP-PIB (Poland), DGUV (Germany), EUROGIP (France), FIOH (Finland), INRS (France) and INSHT (Spain).