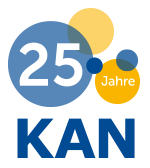 VFA, the Association for the Promotion of Occupational Safety in Europe
Within the mission already formulated in its name, i.e. that of promoting occupational safety and health in Europe (see also Section 2 of the standing rules (only available in german)), the VFA particularly lobbies for only safe products to be allowed onto the European Internal Market, and for that reason for a high standard of safety harmonized throughout Europe to be embodied in the requirements governing these products.

The members (only available in german) of the VFA are the German statutory accident insurance institutions. The organs of the VFA (the Executive Board and the Members' Meeting) are the same as those of the German Social Accident Insurance (DGUV), which is also responsible for management of the VFA. Should you have any questions concerning the VFA, please contact Ms. Sabine Ernst.

The tasks of the VFA include the promotion and conducting of projects and measures which are conducive to occupational safety and health. For this purpose, it co-operates with public authorities, organizations and institutions with similar goals at national, European and international level.
The Commission for Occupational Health and Safety and Standardization (KAN) is a project of the VFA. The German Federal Ministry of Labour and Social Affairs (BMAS) supports the financing of KAN by assuming 49% of its funding.