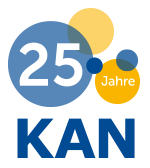 KAN: The project
Find out more about the role and organizational structure of the Commission for Occupational Health and Safety and Standardization.
---
Who we are and what we do
Read about how KAN is organized and find out more about our role in supporting standardization activity from an OSH perspective and lobbying for OSH concerns to be addressed during standards development.
About KAN
KAN comprises representatives of employers, employees, the state (German national and regional governments), the German Social Accident Insurance (DGUV), and DIN German Institute for Standardization.
The names of the individuals representing these stakeholders in KAN can be found here.