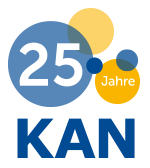 We'd like to keep you up to date. Find out about our publications, read them online, download files and order the publications that are important to you.
---
An information publication for OH&S experts involved in standardization. The KANBrief is a quarterly update concerning news and trends in the field of OSH and standardization. to KANBrief
KAN commissions studies and reports in order to analyse issues of relevance to OSH and to identify scope for improvement in standardization activity to KAN studies
---
Exoskeletons
It sounds compelling: a worker dons an exoskeleton and then performs physically demanding or uncomfortable tasks with ease, and under ideal circumstances also more quickly. But is it really that simple? Read in the Special section of this issue why the use of exoskeletons needs to be considered and planned very carefully if it is to be effective for both the company and the worker.
Validated OSH-related findings concerning the non-visual effect of light upon human beings - A literature review
The literature review discusses the latest OSH-related findings of scientific studies into the non-visual effects of light. In order for the non-visual effects of light to be considered as broadly as possible, a number of specialist disciplines – chronobiology, occupational medicine and lighting technology – were involved in the KAN Study. The comprehensive assessment from the perspective of lighting technology can be found in the annex. This assessment sets out principles of lighting technology and current knowledge of potential harm to the eyes caused by an excessively intense blue light component.
Download KAN Study 08/2018 (german; english summary)
List of all KAN Studies